You want me to do what? 6 miles!!!
Today on my training was 6 miles. I will let that sink in for a moment.......6...miles! It was too windy outside today, for my wimpy self. Especially since I would be running alone. I decided to get back on the treadmill. I had bought some new fuel, so that I can start experimenting. Especially since I never know what my stomach will take exception to. I bought Gatorade G2 perform to help keep me from losing too many electrolytes, and a Razz Clif shot.
I mixed the G2 powder into 2 bottles of water. I don't always drink a lot of water, but I was going to try to stay hydrated this time. I also tried to drink lots of water throughout the day. I ended up drinking about 1 and 1/2 bottles. It was pretty good, didn't have quite the flavor of gatorade that I dislike. It was just fruity. Little bit of an aftertaste. My fingers swelled up during the run. I had to take off my rings. Not sure if I was drinking too much or too little. Maybe some of you experienced runners can help me out?
After about mile 4 I took half of the Clif shot. Rasberryish. yumm. Tasted pretty good, but you have got to have something to wash it down with! If I hadn't been able to get a drink, I think my mouth would have tasted like a desert. Good news? My stomach had no problems with either the Gatorade or the Clif shot. I shouldn't have any bathroom emergencies using these.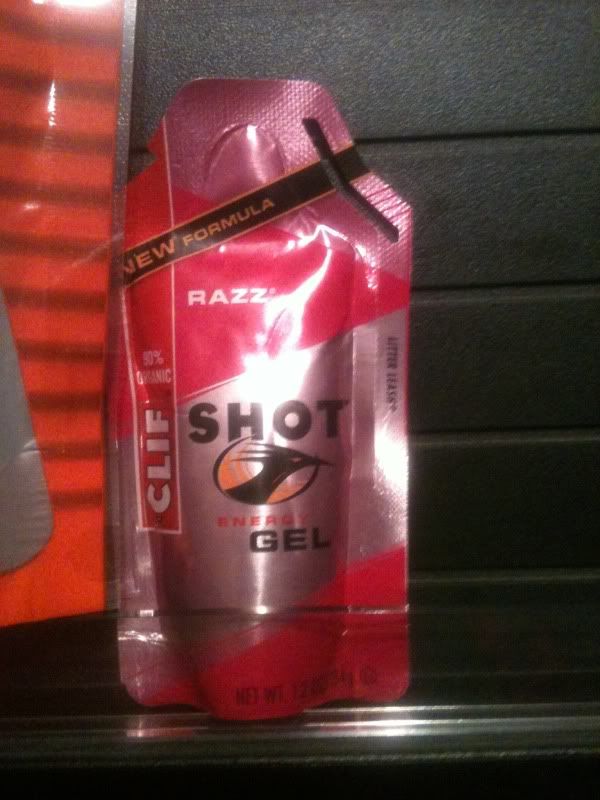 At mile 5 I took what was left of the Gel shot. I was pretty impressed with myself at this point. I hit 5 miles slower than with the group run, but faster than the last time I did 4.5 with Eric. I was texting my friend Billie Jo. She was so encouraging, and I don't think she realized how much her encouragement helped!
6 miles in 84:50!!








The pic is blurry because I was trying to walk and take the pic at the same time. I didn't want to just stop, so I was trying to cool down. I did intervals the entire time. Walk 1 minute, and run 2 minutes. The whole time. It didn't get really difficult until after the 75 minute mark. I wanted to just walk the rest of the way, but I wanted to surpass my goal of finishing in under 1 hour and 30 minutes. I did it! I finished it in 84:50!! I now feel more like a runner, because you don't call someone who does that a walker. I am no longer going to feel guilty about calling myself a runner.
I also have to say that I am one of the luckiest women on the planet. I have some wonderful children. I gave Kylah and Ashleigh a few instructions, and they made dinner. Shepherds pie, and it was awesome. They helped take care of the babies while I was gone too. Eric was supervising, but the girls did the dinner on their own. They only had to call me once. I am so thankful to have such a supportive and helpful family! I would never be able to meet my goal if they weren't here supporting me the whole way!
My wonderful children! In the purple is Kylah (the oldest), holding Erika (the baby) is Elisabethe (middle teen), Holding Amos ( only boy) is Ashleigh ( youngest teen)