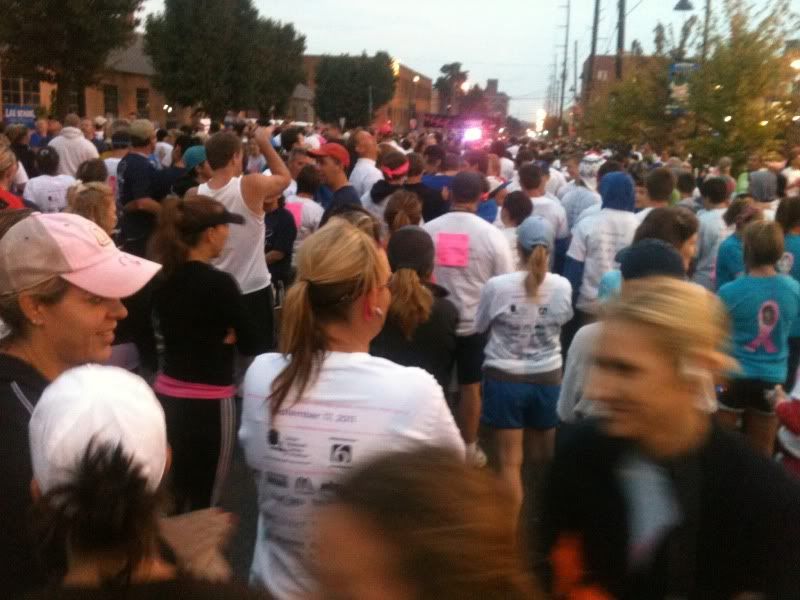 in the starting line
After going to an Alan Jackson concert last night, I woke up at 5:40. In the A.M. I repeat- IN THE A.M.!! Everyone else was asleep. I had gotten everything together the night before. However, I did forget to plug in my phone. That meant no Ipod, and no runkeeper. It really was a blessing in disguise. The energy was amazing. There were people dressed as fairies, and pirates, some had pink hair. Pink everywhere! I had planned on meeting a friend, a much faster friend. I couldn't find him. I got to the starting line and stayed near the back of the pack. As I've oft lamented, I really am very slow.
Before I knew it, we were off! I started jogging, and I was actually passing people!!! I was very shocked! There were people lining the street, even cheerleaders from the local schools yelling for us. I jogged all the way to the 2k mark without stopping. I thought, "all right! only one more to go!". Then I realized, 2k not 2 miles! Ugh, not even halfway there. I slowed to a walk for about a minute or so, maybe less. Then I was off again. I took off my long sleeved tshirt. It was chilly at the start. I tied it around my waist, and kept going. There was a really big hill, down and then up. I even ran up the hill. Yay me!! I came around the corner to the end, and was really enjoying myself. Back past my cheering fans. :) I ran. I didn't jog, I ran over the finish line. I was so excited that I didn't even look at the timer. I walked around trying to catch my breath. I finally remembered to go look at the timer. It said 38 minutes. My last 5k, I finished in 42 minutes. I know my time is sometime in between 36 and 38 minutes. They didn't have the times posted, so I don't know my official time.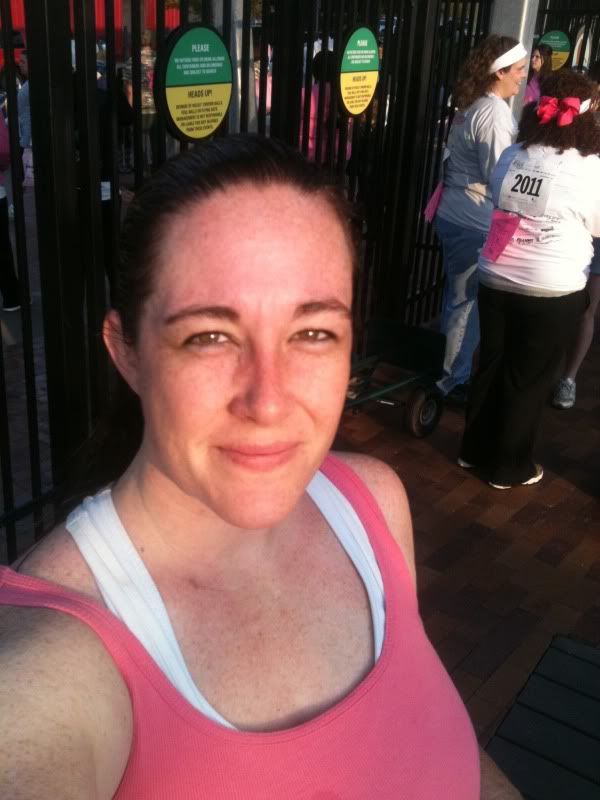 after the race
I found one of my other friends, Nellie, who was going to run in the untimed 5k. We walked around, and got some free swag. I missed seeing my other good friend, Sabrina, but she ran with Nellie.
Nellie and Sabrina








It's been a wonderful Saturday, and now the sun is shining. We might have to do something fun with the children that are here today. When Eric gets home from golfing though. Time to sign up for my next race. Now to decide which one!