I was looking forward to getting to run on a treadmill last night. However, that fell through, and I was back to running outside in the heat. Luckily, we had a little bit of rain. That bumped us out of the 100's, and then I waited until 8:30 when it had gotten down around 85. Cold front!!!! It was a little humid. Don't worry I wore a white shirt, I think I may need to get reflectors or something. The good thing is that the town I live in practically rolls up the streets at 8, and not very many people are out and about around the time I get out and run. I got some music downloaded this time, and really enjoyed running to music again.
The first mile I was doing surprisingly well. I think that I play too many mind tricks on myself. I was thinking "It's so hot, I wonder how far I've come, It's gotta be at least a mile by now, Am I tired?" Then I would realize that I was still feeling pretty good, and just kept going. I never could run this far without walk breaks before Zumba! Around the end of my first mile I passed the horse that always looks at me like I'm crazy. It's such a pretty horse though.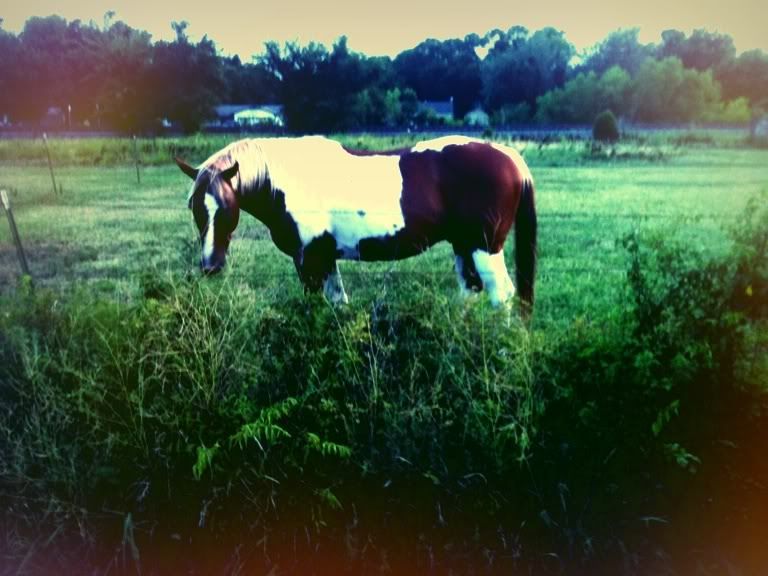 I kept going, and then I thought I may as well take a pic of the sunset. Ok, the sun was almost completely set by this time.
I made my next loop, with a minimum of walking. I was almost home and one of the songs from my daughter's twilight CD that I
stole
borrowed came on. Don't judge- you know you liked those movies for some strange reason (I can't explain why I like them). I gave one last little kick. Of course I was dying when I came in the house, and my husband asked if I was going to live. (This is a common question he asks all of us)
My numbers per runkeeper when I got done-2.30 miles in 31:23, an avg min/mile of 13:40. Yay! I even attempted a pull up before I got in the shower. Yes, 1 pull up attempted! I may be ready for the Warrior Dash by September after all! Just a
little
ok A LOT of training to go!